Sunday, 21 Septembre

Aujourd'hui j'ai visité le musée de blackjack à Marac, France. Lui et certains de ses collègues dans ce forum (alvin17, Fabien, Sam) Partage généreusement la plus belle collection de documents de l'AEF en France pendant la Première Guerre mondiale. Je tiens à les remercier (et vous tous sur ce forum) pour votre dévouement et services.

Ce soir, je vais dormir à Verdun et je sais que je vais rêver de tout ce que j'ai vu et entendu à Marac aujourd'hui.

Merci, merci, merci.

-------- English -----------
Sunday, September 21

Today I visited blackjack's museum in Marac, France. He and some of his colleagues in this forum (alvin17, fabien, sammy?) generously shared the most wonderful collection of materials of the AEF in France during WWI. I want to thank them (and all of you on this forum) for your dedication and service.

Tonight I will go to sleep in Verdun and I know I will dream of all that I have seen and heard in Marac today.

Thank you, thank you, thank you.

mark
Mark...

I told you so.... Photos please.....

BB

boisbelleau

Membre




Messages

: 1659


Date d'inscription

: 20/08/2009


Age

: 54


Localisation

: Pennsylvanie, USA



Bonjour
Merci à Blackjack pour cette belle rencontre avec Mark et son interprète, le parcourt de son grand-père raconté avec émotion par Mark nous a fait revivre la réalité d'un doughboy dans ce conflit.
Merci à tous pour ce bon week-end A.E.F.
 SAM1917
hello
Thank you for this beautiful Blackjack meeting with Mark and his interpreter, the travels of his grandfather fondly recounted by Mark brought us to life the reality of a doughboy in the conflict.
Thank you all for a good weekend A.E.F.
 SAM1917

SAM1917

Membre




Messages

: 779


Date d'inscription

: 03/10/2009


Localisation

: Sector52 Haute-Marne




alvin17

Membre




Messages

: 17421


Date d'inscription

: 15/04/2009


Age

: 58


Localisation

: District of Paris



Hello
C'était un très bon moment que j'ai eu plaisir à partager avec mes amis d'AEFC car aux travers de nos recherches l'objectif c'est de commémorer le souvenir de ces Doughboys comme ton grand-père.
Je n'ai jamais eu la chance de rencontrer un seul Vétéran US de la Grande Guerre, alors ce qui m'a le plus émus c'est de parler avec une personne qui en a rencontré un : John Longley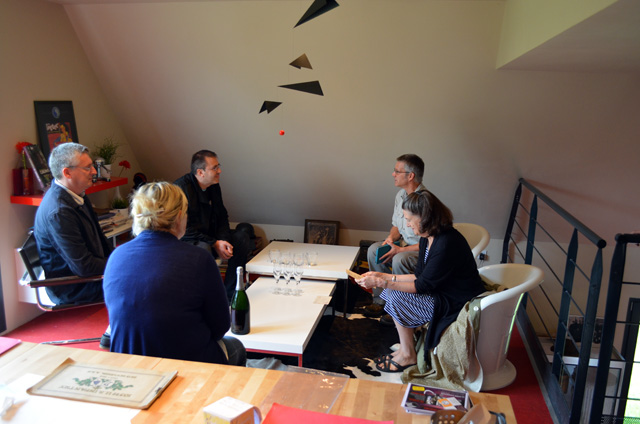 Hello
It was a great time I had the pleasure of sharing with my friends because AEFC through the goals of our research is to commemorate the memory of those Doughboys like your grandfather.
I 've never had the chance to meet one US Veteran of the Great War , then what moved me the most is to talk with someone who has met with John Longley
blackjack
Dernière édition par blackjack le Mar 23 Sep 2014, 21:47, édité 1 fois

blackjack

Admin




Messages

: 8350


Date d'inscription

: 15/04/2009


Localisation

: Chaumont (Capital of the AEF)



A 11h11 le 11.11.1918 les canons de la Première Guerre mondiale se sont tus. John M. Longley et le régiment 103e de la 26e division se tenait sur ​​cette route de campagne dans la ville de Ornes à environ 15km au nord-est de Verdun. Ils avaient poussé les Allemands dans ce qui est maintenant connu comme la 2ème bataille de Verdun ou de la Meuse-Argonne offensive du 8 Oct. - 11 Novembre 1918. Pour moi, ce fut un moment solennel. J'ai choisi deux de trèfle de plus en plus par la route, le trèfle qui ressemble le trèfle on peut trouver sur le bord de la route à Anson, dans le Maine. Pour John Longley, voir un trèfle sur le côté de la route, cette route, a marqué la fin de d'un voyage qui l'a conduit à l'enfer et son retour ...
--------------
At 11:11am on 11/11/1918 the guns of WWI went silent. John M. Longley and the 103rd regiment of the 26th Division was standing on this country road in the town of Ornes about 15km northeast of Verdun. They had pushed the Germans back in what is now known as the 2nd Battle of Verdun or the Meuse-Argonne Offensive from Oct. 8 – November 11, 1918. For me, it was a solemn moment. I picked two clover growing by the road, clover that looks like the clover one might find on the roadside in Anson, Maine. For John Longley, seeing a clover on the side of the road, this road, marked the end of of a journey that took him to hell and back ...
Hello

Merci pour cette anecdote émouvante Mark
-----------
Thanks for this story moving Mark

blackjack

blackjack

Admin




Messages

: 8350


Date d'inscription

: 15/04/2009


Localisation

: Chaumont (Capital of the AEF)





Sujets similaires
---
Permission de ce forum:
Vous
ne pouvez pas
répondre aux sujets dans ce forum